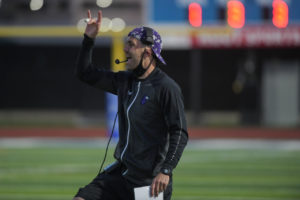 Head Coach-Ryan Marini
Coach Marini is excited to be heading into his sixth year of being the head coach at Denver South.  He will also serve as defensive coordinator for the Ravens.  In the past 5 years, under Coach Marini's direction, the program has gone 28-21, including two league championships and two state playoff appearances.  Coach Marini is in his 21st year of teaching social studies in Denver Public Schools, the past 11 years at Denver South High School the previous 10 years at Abraham Lincoln High School.  He has coached football at a plethora of schools, including Lincoln, Heritage, Cherry Creek, Littleton, and Denver South.  In addition to football, he coached 8 years of basketball at Lincoln during their two state championships (2007 & 2008).  Coach Marini played strong safety at Heritage High School (Class of '98) and at Wartburg College in Waverly, IA (National Playoff Qualifier, 1999).  He would like to thank his wife Christy (teacher at Campus Middle School) for her role as Director of On-field Technology and generally putting up with his nonsense.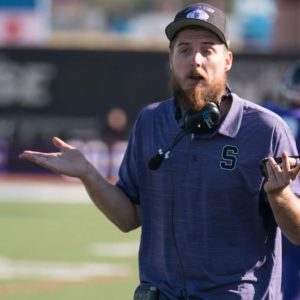 Offensive Coordinator-Kyle Baker
Coach Baker is in his 6th year coaching in Colorado at Denver South. He will again serve as varsity offensive coordinator for the Ravens. This is his 13th year total as a high school coach. Previous to South he coached 7 years in the Orlando metro area. While in Florida Coach Baker was lucky enough to have coached 23 Division I scholarship athletes and 68 total scholarships. Coach Baker loves fishing and any thing football.  He would also like to thank his wife Emma for supporting him through all his adventures.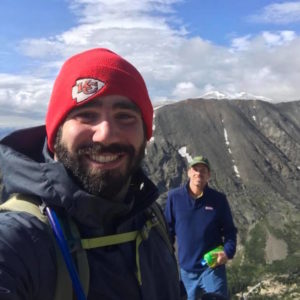 JV O-Coordinator/Varsity OL Coach Mike Patterson
Coach (Mike) Patterson will be entering his 5th season coaching at Denver South. This year he will be coaching the varsity offensive line, as well as be the OC for the JV Team. Coach Patterson's coaching has consisted of the last 3 years at South, as well as being the varsity defensive line coach at George Washington High School for two years before that. Patterson will be entering his 2nd year of teaching Special Education at Denver South. During Patterson's high school career, he was a unanimous selection to the Nebraska All-State Football Team by both the Omaha World-Herald, and Lincoln Journal Star during his senior season. His high school success on the field, as well as in the classroom earned him a football scholarship at the University of Sioux Falls where he was a part of two NAIA National Championship teams.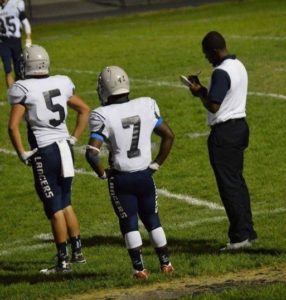 Varsity QB Coach-Duane Rich
Coach Duane Rich joins the staff for his third season after previously coaching for three years at Abraham Lincoln from 2015-2018. He started off as a offense and defensive assistant on the C-Team/JV (QBs,RBs,WRs,DBS). From there progressed to Varsity as the RBs coach. Coach Rich was a three-sport athlete in High School playing football, basketball, and running track earning letters in all three. He then earned a scholarship to play football at the Colorado School of the Mines, where he later transferred from after freshman year to Northern Colorado. Rich received his Bachelors' in Finance and is now currently working on a Masters' in Data Analytics. One of his favorite phrases is "Paralysis by Analysis," which is something he hopes to eliminate when working with the team this year.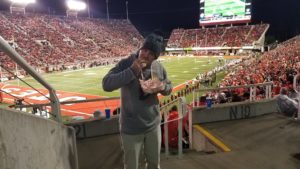 Varsity OLB Coach-Ben Harp
Coach Harp returns for his 3rd year to coach inside linebackers at South.  Born and raised in Boise, ID, Coach Harp was an all-conference corner at Borah HS.  After high school, coach went on to student coach for the Idaho Vandals.  He was lucky enough to coach under Robb Akey(current defensive coordinator at Central Michigan) where he worked on both side of the ball.  Coach Harp is excited
to give back and to be a positive influence to these young student/athletes as they navigate a fun but at times tricky and technical section of road.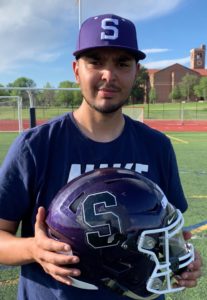 Varsity WR Coach-Isaiah Sanchez
Coach Sanchez stepped on the football field at the age of 7 and fell in love with every aspect of the game and has been involved in football ever since. He played high school football at Bear Creek High in Lakewood, CO. His first coaching experience was as a flag football head coach with i9 sports, where he was part of back to back championship seasons. He then got the chance to be an assistant coach with the team he grew up playing for the Denver P.A.L. Redskins. He helped out with two different age groups this past season, 6-8 yr olds and as well as 12-14 yr olds. He will be again working with the WR's this upcoming season, his 4th for the Denver South Rebels. He is excited to learn from the South coaching staff and wants to help prepare these student-athletes for life on and off the field.
 Varsity ILB Coach-Alvaro Marquez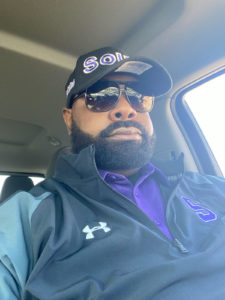 Varsity D-Line Coach-Darwin Cox
Coach Cox will be entering his third year of coaching at Denver South, again working with outside linebackers.  In the previous 2 years, his 3 of his OLB's have earned all-league honors and one achieved all-state honors.  Coach originally hails from Flint Michigan where he played high school football and baseball.  He then went on to play 9 years of semi-pro football with the Flint Fury.  Coach moved to Colorado in 2012 and has been coaching the last 6 years.  Before coaching at Denver South, Coach Cox was part of the Hinkley High School staff that made the playoffs in his final two years coaching there.  When not coaching, Coach Cox helps keep the city safe as Denver Sheriff.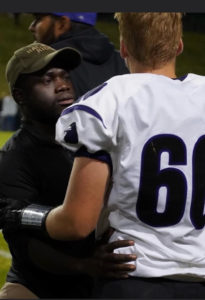 Varsity RB Coach-Mouctar Kamara
Coach Mookie played high school football at Grandview and Thomas Jefferson High Schools and graduated from DC21 in 2016. As a high school athlete, Coach Mookie was a three-year varsity starter, an all-conference player as a Junior and Senior and a captain at Thomas Jefferson High School.  During his senior year of high school he tore his ACL but recovered to come back and go to College at Chadron State. Coach Mookie has been coaching has been as the head coach for the Denver Eagles 6th, 7th and 8th grade football teams in 2017, 2018 and 2019. In three seasons we went from a 1-7 record to this year being undefeated in the regular season and being conference champions with a league Super Bowl appearance. Coach Mookie is excited to be joining the Denver South family. For Coach Mookie it is not just about football, but about teamwork, discipline, perseverance, goal setting, handling success and failure, time management, keeping fit, and building a lifetime of friendship with your teammates.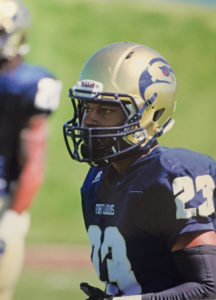 Varsity DB Coach-Malcolm Wright
Coach Wright graduated from Denver South in 2015, where he excelled at both football and track. He played both WR and DB and went to state all 4 years in track. Coach Wright received a scholarship to play college football at Fort Lewis College, playing defensive back in his time with the Skyhawks. He graduated in  2019 with a degree in exercise science, and a minor in coaching. Coach Wright was a fearless athlete who looks forward to helping his players to approach the game the same way.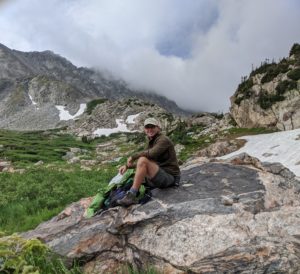 Freshman Head Coach-Curt White
Coach White has been a teacher since 2000 and became a part of the Denver South staff in 2020. He is currently teaching Social Studies and working with the Edgenuity Credit Recovery team. Coach White grew up in Lawrence, Kansas, and has been associated with the game of football as a player and coach throughout his entire life. After high school, Coach White played one year as a receiver at the University of Missouri. He coached youth league football for several years and most recently was a varsity high school wide receivers coach in the Cherry Creek School District. Coach White loves football because it is the ultimate team sport and he believes communicating this to the players is a key to success. Coach White is married to Elise and has three sons: Russell, Charley and Juan.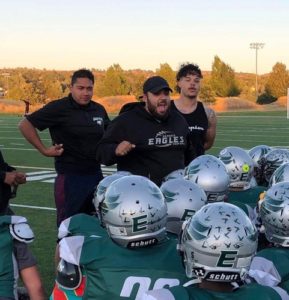 Freshman OL/DL Coach-Chris Loffelmacher
Coach Chris has been around football since the age of 5 playing for the AYL Denver Eagles. Coach Chris also played for South's favorite school Thomas Jefferson where he was a 4 year starter and mainly played Defensive Tackle. At Thomas Jefferson he was an All Conference player both junior and senior years. He then went on to play at Mcpherson College in Kansas. He then coached with Coach Mookie for the same team he grew up playing for the Denver Eagles for 3 years where he was the Defensive Coordinator/ O-line/ D-Line Coach. In those 3 years the teams he coached for went from 1-7 to 8-0 and a big injury away from the championship. Coach Chris is excited to coach for South because loves the bonds between coach and player as well as being able to help and guide these young men and women to become amazing adults. Coach Chris says "Football is about overcoming adversity and that goes hand in hand with life. There are things that try to keep us down and we must overcome them so we can outshine the things keeping us from being special."
Freshman QB/OLB Coach-Austin Meeler
Coach Meeler is excited to return to the Denver South football team! He coached at South during Marini's inaugural season as head coach. Prior to coaching at Denver South, coach Meeler was the head freshman coach at Littleton HS for 8 seasons. In addition to coaching football, coach Meeler has been coaching middle school basketball at Slavens K-8 for the past 9 years where he also teaches 3rd grade. Before coaching, Meeler played quarterback and defensive back at Palmer HS in Colorado Springs before playing quarterback at Adams State and Howard Payne University. Go Ravens!