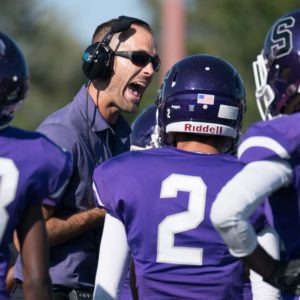 Head Coach-Ryan Marini
Coach Marini is excited to be heading into his fourth year of being the head coach at Denver South.  He will also serve as defensive coordinator for the Rebels.  Coach Marini is in his 19th year of teaching social studies in Denver Public Schools, the past 9 years at Denver South High School the previous 10 years at Abraham Lincoln High School.  He has coached football at a plethora of schools, including Lincoln, Heritage, Cherry Creek, Littleton, and Denver South.  In addition to football, he coached 8 years of basketball at Lincoln during their two state championships (2007 & 2008).  Coach Marini played strong safety at Heritage High School (Class of '98) and at Wartburg College in Waverly, IA (National Playoff Qualifier, 1999).  He would like to thank his wife Christy (teacher at Campus Middle School) for her added role this as Director of On-field Technology.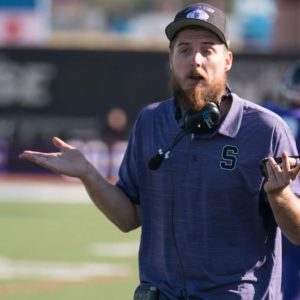 Offensive Coordinator-Kyle Baker
Coach Baker is in his 4th year coaching in Colorado at Denver South. He will again serve as varsity offensive coordinator for the Rebels. This is his 13th year total as a high school coach. Previous to South he coached 7 years in the Orlando metro area. While in Florida Coach Baker was lucky enough to have coached 23 Division I scholarship athletes and 68 total scholarships. Coach Baker loves fishing and any thing football.  He would also like to thank his girlfriend Emma for supporting him through all his adventures.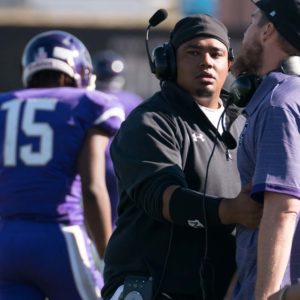 Varsity D-Line Coach-Jason Aikin
Jason Aikin played high school ball for Ponderosa (Parker, CO) all along the offensive and defensive sides of the ball. Earning all-conference honors as a senior along with 2 varsity letters. Coach Aikin also played basketball and track earning 3 letters for the track.  He went on to walk on at Colorado Mesa to throw the shot put and discus, currently studying Human Performance and Sports at Metro State. Last season coached the freshman defense in my first season coaching. Coach Aikin enjoys coaching because he wants to give these high school athletes and students the most knowledge they can have to be successful on and off the field of play. Parents Anthony and Jeanne and 2 brothers Josh and Steve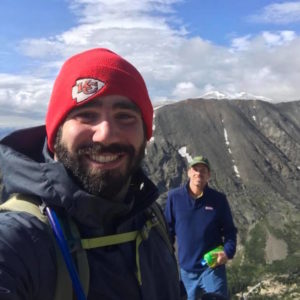 JV O-Coordinator/Varsity OL Coach Mike Patterson
Coach (Mike) Patterson will be entering his second season coaching at Denver South. This year he will be coaching the varsity offensive line, as well as be the OC for the JV Team. Coach Patterson's previous coaching consisted of serving as the Rebel's Freshman Head Coach last season, as well as being the varsity defensive line coach at George Washington High School for two years. Patterson will be entering his 5th year as PE teacher for Denver Public Schools at the Contemporary Learning Academy (CLA). During Patterson's high school career, he was a unanimous selection to the Nebraska All-State Football Team by both the Omaha World-Herald, and Lincoln Journal Star during his senior season. His high school success on the field, as well as in the classroom earned him a football scholarship at the University of Sioux Falls where he was a part of two NAIA National Championship teams.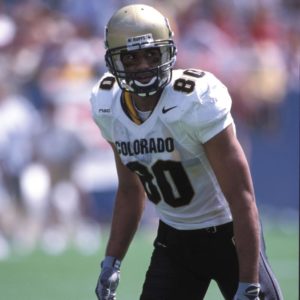 Defensive Assistant Coach-Derek McCoy
Coach Derek McCoy will be helping with the defense and character development at South for the 4th year. McCoy joins South after three years of leading a character development program for the Futures Spring Football League. Prior to this, McCoy has worked in schools with a local non-profit called Project PAVE since 2011, working with youth from middle through high school to support healthy relationship behaviors and expressions of identity. Prior to his work with PAVE (
www.projectpave.org
), McCoy taught and coached football, basketball and track at the middle through high school levels in Mapleton Public Schools from 20017-2011. Prior to this, McCoy had a brief two and a half year (2004-20007) career in the NFL, following his career as a wide receiver at the University of Colorado from 1999-2003 (2001 Big XII Champions).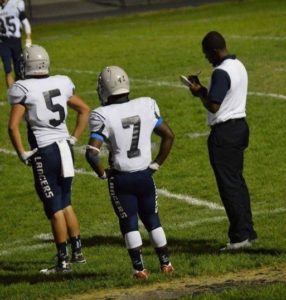 Varsity QB Coach-Duane Rich
Coach Duane Rich joins the staff after previously coaching for three years at Abraham Lincoln from 2015-2018. He started off as a offense and defensive assistant on the C-Team/JV (QBs,RBs,WRs,DBS). From there progressed to Varsity as the RBs coach. Coach Rich was a three-sport athlete in High School playing football, basketball, and running track earning letters in all three. He then earned a scholarship to play football at the Colorado School of the Mines, where he later transferred from after freshman year to Northern Colorado. Rich received his Bachelors' in Finance and is now currently working on a Masters' in Data Analytics. One of his favorite phrases is "Paralysis by Analysis," which is something he hopes to eliminate when working with the team this year.
 Varsity ILB Coach-Ben Harp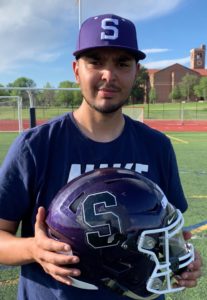 Varsity WR Coach-Isaiah Sanchez
Coach Sanchez stepped on the football field at the age of 7 and fell in love with every aspect of the game and has been involved in football ever since. He played high school football at Bear Creek High in Lakewood, CO. His first coaching experience was as a flag football head coach with i9 sports, where he was part of back to back championship seasons. He then got the chance to be an assistant coach with the team he grew up playing for the Denver P.A.L. Redskins. He helped out with two different age groups this past season, 6-8 yr olds and as well as 12-14 yr olds. He will be working with the running backs and outside linebackers this upcoming season, his first for the Denver South Rebels. He is excited to learn from the South coaching staff and wants to help prepare these student-athletes for life on and off the field.
Varsity OLB Coach-Darwin Cox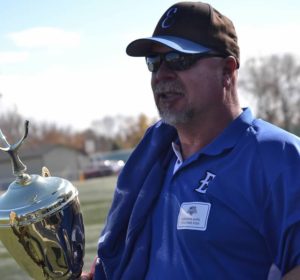 Freshman Head Coach-Steve Moore
Coach Moore grew up in Lakewood, Colorado and attended Lakewood High School where he played football and baseball. He served 6 years in the Navy in Electronic Warfare and was stationed at Pearl Harbor in Hawaii and also in Pensacola, Florida. Coach Moore haa coached youth football for 20+ years, including 3 Carnation Bowls in which his teams brought home the championship all three times. He also has coached baseball for about 8 years and have one championship.
Freshman RB/LB Coach-Mouctar Kamara
Coach Mookie played high school football at Grandview and Thomas Jefferson High Schools and graduated from DC21 in 2016. As a high school athlete, Coach Mookie was a three-year varsity starter, an all-conference player as a Junior and Senior and a captain at Thomas Jefferson High School.  During his senior year of high school he tore his ACL but recovered to come back and go to College at Chadron State. Coach Mookie has been coaching has been as the head coach for the Denver Eagles 6th, 7th and 8th grade football teams in 2017, 2018 and 2019. In three seasons we went from a 1-7 record to this year being undefeated in the regular season and being conference champions with a league Super Bowl appearance. Coach Mookie is excited to be joining the Denver South family. For Coach Mookie it is not just about football, but about teamwork, discipline, perseverance, goal setting, handling success and failure, time management, keeping fit, and building a lifetime of friendship with your teammates.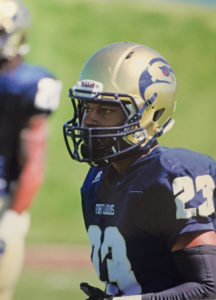 Freshman WR/DB Coach-Malcolm Wright
Coach Wright graduated from Denver South in 2015, where he excelled at both football and track. He played both WR and DB and went to state all 4 years in track. Coach Wright received a scholarship to play college football at Fort Lewis College, playing defensive back in his time with the Skyhawks. He graduated in  2019 with a degree in exercise science, and a minor in coaching. Coach Wright was a fearless athlete who looks forward to helping his players to approach the game the same way.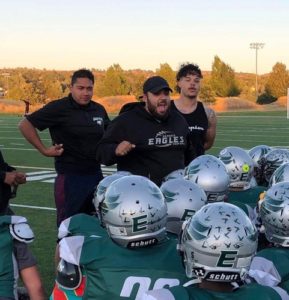 Freshman OL/DL Coach-Chris Loffelmacher
Coach Chris has been around football since the age of 5 playing for the AYL Denver Eagles. Coach Chris also played for South's favorite school Thomas Jefferson where he was a 4 year starter and mainly played Defensive Tackle. At Thomas Jefferson he was an All Conference player both junior and senior years. He then went on to play at Mcpherson College in Kansas. He then coached with Coach Mookie for the same team he grew up playing for the Denver Eagles for 3 years where he was the Defensive Coordinator/ O-line/ D-Line Coach. In those 3 years the teams he coached for went from 1-7 to 8-0 and a big injury away from the championship. Coach Chris is excited to coach for South because loves the bonds between coach and player as well as being able to help and guide these young men and women to become amazing adults. Coach Chris says "Football is about overcoming adversity and that goes hand in hand with life. There are things that try to keep us down and we must overcome them so we can outshine the things keeping us from being special."